Summer is a great time to get outdoors and have some fun. There are a lot of great races during the summer. Below we've picked five stand-outs this year based on user feedback. If you know of any other crazy summer races please tell us about them in the comments below.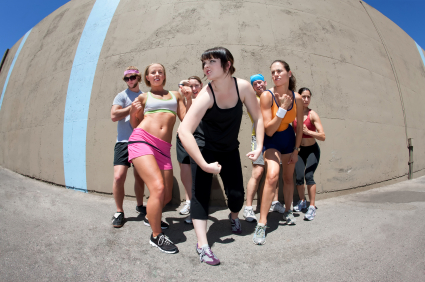 • The 20th Annual Bare Buns Fun Run in Tiger Mountain, WA
The annual Bare Buns Fun Run, now on its 20th year, takes place on July 10th. It is a race for those who like to bare it all. And by bare it all, we mean ALL! Officially this is a "clothing optional" race which means you may wear clothing if you choose. But most of the race officials and participants will be nude so consider yourself warned. The race takes you through beautiful Tiger Mountain. The course has some unpaved portions with a mix of cross country, uphill and downhill. After the race, you can swim in the pool with your fellow nudists while waiting for the winners to be announced.
• Dances with Dirt in Hell, MI
This event takes place in Hell… Hell, Michigan that is. The race is planned for September 24th and consists of an ultra-marathon and a five man team relay event. Runners should be ready to have their running gear torn and soiled, hence the name Dances with Dirt. In the five man team relay each member runs a total of 12 miles (3 legs x 4 miles per leg). The extreme course is a challenge and consists of course segments aptly named, such as: "This Sucks!", "Where's the F'N" Bridge", and "The Stupid Lake". The relay course has become legendary; however, the ultra-marathon is far worse. It is 50 miles of hiking and mud-diving, not for the faint of heart!
• Diva's Half Marathon in Vail, CO
The Diva's Half Marathon is set for August 21st in Vail, CO. This one is for the ladies! Runners dress up in tiaras and boas and strut their stuff on the 13.1 mile catwalk. Finishers get a Diva medal that includes room for a personal picture. At the finish line, runners are greeted by a young gentleman that presents the finishers with a medal and offers them a toast. There is a party (fit for a diva) after the race to celebrate the achievement.
• Santa's Summer 5K & Elf Walk in Piketon, OH
Celebrate Christmas in the summer?!? Santa's Summer 5K and Elf Walk in Piketon, OH, takes place on August 20th. The course for the race is a flat and fast road with minimal traffic. Christmas-themed decorations and free snow cones are available for the all the runners and their families. Of course, what's a Santa run without Santa? So racers are encouraged to wear their best Santa costume and awards are given for those in the getups. Proceeds from the race are used to buy gifts for needy children during the holiday season.
• Disneyland Half Marathon Weekend in Anaheim, CA
The Disneyland Half Marathon Weekend takes place September 2nd through the 4th. Dubbed The Happiest Race on Earth, this half marathon takes you through the famous Disney theme park. Run through Sleeping Beauty's castle and along the way high-five one of your favorite Disney Characters. The course goes through both Disneyland and California Adventure. This race gets a lot of great reviews from runners each year and is fun for the whole family.