Name a Business
Many entrepreneurs name a business before giving this step much thought. However, naming your business is an important process that should not be made in haste. Your name is often the catalyst in which your business idea will begin to take shape. Your name will influence your branding, your logo, and your position in the marketplace.
A name that's not well thought-out can be a disaster: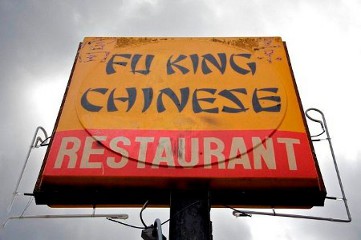 See more wrong ways to name a business at FAIL Blog.
A great name will get you off to a good start. There are some straightforward things to consider when choosing a business name. First, keep it simple. Don't come up with a complicated name that is useless in helping someone identify what you do. Make it easy to spell and easy to remember. If a person can't remember your name or find you on the Web you have probably lost the sale to the company they can remember and/or locate.
Get some creditable feedback from people you trust but don't invite too many cooks into the kitchen either. The more people you get involved the harder it's going to be for you to narrow your focus. Your name should be creative, without being whimsical. If you are a creative type, get one or two practical people to help you decide. If you are the practical type, do the opposite.
Create a name that is expandable but don't exaggerate too much either. For example, don't go with Global Widgets when you have two employees on payroll and only ship locally. However, do not use a name that includes your city of operation either — unless your plan is to never expand past your city limits or the location adds value to your brand (for instance Planet Hollywood is okay because it portrays the Hollywood experience you can expect at a Planet Hollywood restaurant).
Don't parody a famous brand name unless you like getting sued. We were going to call one of the companies I helped found the International House of Design and borrow off the IHOP logo to design our branding. It would have been a big mistake (luckily we were smart enough to realize we were being a little too "whimsical")!
An old trick is to start your company's name with the letter 'A' to be the first in the phone book. Although this is not as important anymore, preferably you still want a letter in the first half of the alphabet for online directories and company lists in convention handouts, etc. It is always better to be on the top of a list, or in the beginning of booklet (before your customer's attention wanes).
Lastly, before you cement your name make sure it is available on the Internet. Even if you do not plan to operate on the Web, these days you need a website. Try a reputable domain registrar to see if your business name is available. If your name is not available domain registrars often have naming engines that can help you brainstorm a new name. It's not that hard to name a business, but it is not that hard to screw it up either. Follow the above advice, do your research, choose wisely, and you will be off to a good start.