Fitness and Health App Downloads Are On the Rise
If you have been following my stuff or just know tech you are already aware mobile app usage in skyrocketing. Health related apps make up a significant portion of this growth and are becoming more and more popular among Smartphone users in both developed and developing economies. For example, fifty-two percent of all adults with a Smartphone now use mobile health apps more than they had in previous years. Wakefield Research released these statistics on mobile health apps after conducting a survey involving one thousand adults in the United States. Citrix commissioned this survey. Here are more highlights about mobile health apps:
Increase in Popularity of Fitness Apps
It seems as though staying fit is a key concern of the average Smartphone user. Fitness apps are generating a greater network load than other kinds of mobile health apps. This higher generation of network load stems from the fact that fitness apps involve periodic updates in reference to the status of the user as well as continuous tracking of activity. For instance, even a casual jogger that logs 12 miles a week (four 30 minute sessions) is creating an immense amount of data. The increase in popularity of wearable fitness devices is likely to increase the network load already occupied by fitness apps. These wearable devices include brands such as FitBit, Samsung Galaxy Gear Smartwatch, Pebble and Nike+. 
Traffic Data from ByteMobile
Citrix, the firm that commissioned the survey, also revealed mobile traffic data from the subscribers of ByteMobile. This data clearly shows that apps for weight loss and fitness were the most popular apps downloaded by ByteMobile subscribers. More specifically, statistics showed that users of fitness apps accounted for more than fifty percent of all ByteMobile subscribers. This is an increase of over eleven percent from the previous year. Apps on pregnancy and fertility were also popular
The Top Ten Mobile Health Apps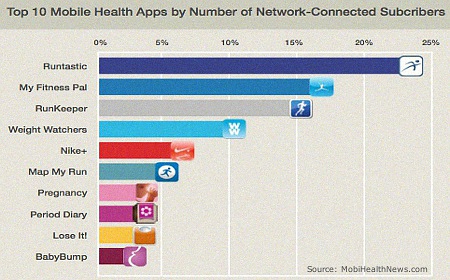 The study also included a list of the top ten most popular health apps (based on a  compilation of the overall number of network-connected subscribers each app had). Runtastic was the number one health app with more than twenty-five percent of all ByteMobile subscribers have this app on their Smartphone. MyFitnessPal came in second place closely followed by RunKeeper. More than thirty percent of all subscribers to ByteMobile used either MyFitnessPal or RunKeeper. Weight Watchers was the fourth most popular mobile health app, followed by Nike+ and then MapMyRun. Pregnancy and Period Diary came in at seventh and eighth place respectively. Lose It! was in ninth place and finally, Baby Bump was the tenth most popular mobile health app according to this particular study.